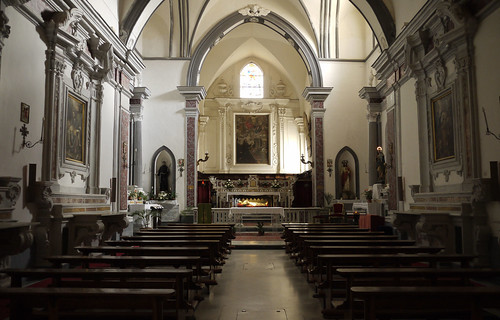 The church, dedicated to St. John the Baptist stands of the site of an earlier building.
The church, preceded by a covered atrium , is annexed to the Franciscan convent. Originally a Latin cross , with three naves and eight chapels , following the eighteenth-century restorations, it is today presented as a single -barreled vaulted hall (until the 1980 earthquake decorated with frescoes ) and a short transept with a scarsella [1] . Under the high altar lie the remains of the blessed Bonaventura da Potenza , who died in Ravello in 1711, four miracles of which are depicted on the tables that adorn the walls of the apse.. Leaning against the walls of the nave are four altars, two on each side, decorated with paintings. The first altar on the right has a canvas depicting the three Franciscan saints Santa Chiara , San Bonaventura and San Ludovico d'Angiò ; the following altar is adorned with the Coronation of St. Joseph . On the first altar on the left is a Deposition of Christ , while on the following altar stands Our Lady of the Rosary with Saints Dominic and Catherine . The altars of the transept are dedicated, respectively, to the Immacolata (right altar) and to Sant'Antonio (left altar) [4]. In the choir located on the counter-façade there is a 1909 pipe organ, which reuses part of a previous instrument of 1736, restored in 2012 [5] .
Under the main altar is the urn containing the body of Blessed Bonaventura da Potenza, who died in Ravello in 1711 and was declared Blessed in 1775 by Pope Pius VI. Also in the same church are the remains of the Servant of God Father Donato Antonio del Quercio di Caposele, who died in great fame of holiness (+ 1774) and of the worthy brothers between Antonio and Padre Bonaventura Mansi, of the Friars Minor Conventual.